CONVENTIONS ARCHIVE
For current conventions, please click here.
MARCH 21, 2010, 10 a.m. to 3 p.m.

Baltimore Non-Sports Card Convention
Towson Place Hotel & Suites
(Formerly the Holiday Inn Baltimore-Towson)
1100 Cromwell Bridge Road, Towson, Maryland
Click here for map and directions.
Free parking!
Featuring 40+ tables of exhibitors. Buy, sell, and trade.
Door prizes. Free promos from card manufacturers. Free sample copy of The Wrapper magazine.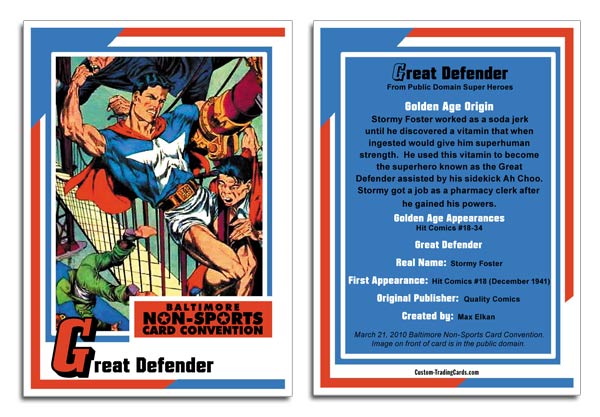 Free limited edition "Great Defender" Baltimore Non-Sports Card Convention promo card with each paid admission, while supplies last! Only 1000 will be printed, so one per person, please.
Courtesy Custom-TradingCards.com by Creative Instinct.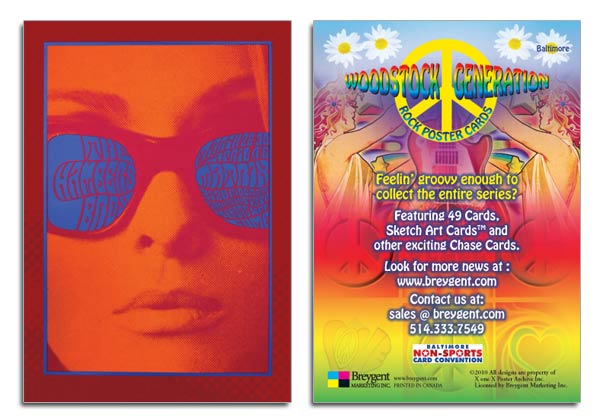 Show Exclusive Promo Card produced by Breygent Marketing.
Special Guests appearing include:
Jeff Zapata - Jeff Zapata is currently art director at Topps. His credits include Garbage Pail Kids, Wacky Packages, and Lord of the Rings as well as editing several sets of Topps card sets from licensed properties including Marvel Legends, Simpsons, Pokeman, Yu-Gi-Oh, and many more.
Mark Pingitore - Mark Pingitore is a full-time artist in the animation business who did concept work for the Garbage Pal Kids card series and also Hollywood Zombies.
Jim Kyle - Jim Kyle is a professional illustrator now working in the non sport field. Kyle has done work for all of the major non sport companies including Topps, Rittenhouse, Breygent, Marvel, DC, and Lucasfilm. His web site is www.jimkyle.net.
Joseph Havlock - Joseph (Joey) Havlock is a contemporary artist that combines state of the art technology with state of the art human dynamics. His featured works can be seen on www.havlock.com.Havlock is one of the curators of The Trading Card Museum.
Rhonda Havlock - Rhonda Havlock has been creating artwork for the past 10 years, from painting with oils and water-colors to working with pen, ink, and colored pencil in addition to several other forms of non-traditional media. Havlock currently has several projects that she's working on, including Deco Max, Cocktails, Portraits, Marilyn Monroe, Abstract Geometry series, and more. Some of her featured works can be seen on www.RhondaHavlock.com. Ms. Havlock is one of the curators of The Trading Card Museum.
Sir Shadow - Sir Shadow is a unique 21st century artist whose style is both exciting and fascinating in its content. Shadow's work is internationally acclaimed and universally appreciated. You may view some of Sir Shadow's artwork on his website, www.SirShadow.com.
Ted Dastick Jr. - Ted Dastick Jr. is a professional sketch card artist who has worked on a variety of cards and sets including licensed properties such as Clone Wars Season I, Star Wars Galaxy, Indiana Jones, Marvel Masterpieces, Archie, and Legends & Lore. Some of Dastick's featured works can be seen on www.tdastick.deviantart.com.
Martin Grams and Terry Salomonson - Martin Grams and Terry Salomonson are the authors of the up-coming GREEN HORNET book due for publication March 2010. Martin's TWILIGHT ZONE book recently won the Rondo Award for "Best Book of the Year." For more details on the upcoming GREEN HORNET book, visit www.OldTimeRadioTapes.homestead.com/home.html
Steven Miller - Steven Miller is a professional artist who has caused quite a splash in the non-sport trading card industry. Since his first published piece hit the George Perez Newsletter, his work has graced the cover of Non-Sport Update, followed by original sketch cards for Rittenhouse Archives' Art and Images of Xena: Warrior Princess, Art and Images of Star Trek The Original Series, X-Men 3: The Last Stand, and The Complete Avengers. Miller's work can also be seen on Artbox's Frankenstein release and Topps Lord of the Rings Masterpieces series. These high profile trading card series have landed Miller's work on the desks at companies like Universal Studios, Paramount, 20th Century Fox, Marvel, Turner Entertainment and Warner Bros. To find out about Miller's next projects, visit www.Miller777Art.com.
U.S.S. William Penn - The U.S.S. William Penn is a newly-forming chapter of Starfleet, The International Star Trek Fan Association, Inc. It serves the Pennsylvania Capital area with members currently from Dillsburg, Elizabethtown, Harrisburg, Hershey, Lancaster, Leola, and Manheim. Membership is, however, open to all interested sci-fi fans. Although Star Trek will be the primary area of interest of the group, other science fiction TV shows and movies will be discussed and watched at meetings. For more information, visit them online at www.usswilliampenn.com.
Brian Kong - Brian Kong has worked professionally in comics and advertising industries for over 12 years. Kong first started at Marvel comics penciling a pin-up for Fantastic Four unlimited. He has been working on sketch cards for the past three years on almost every major property including Star Wars, LOTR and MLB (to name a few). You can also see sketch cards by Brian in the new X-MEN archives and Justice League card sets from Rittenhouse. To view samples of Brian's work, visit his website, www.BrianKong.com.
Manny Mederos - Manny Mederos is a Cartoonist/Illustrator and Sketch Card Artist. He was born and raised in New Jersey and graduated from the School Of Visual Arts as a Cartooning major. Some of his recent projects include sketch card sets such as Voltron: Defender of the Universe, Moonstone Comics Maximum, 5finite's Zombies VS Cheerleaders, and the Archie
Comics/March of Dimes sketch card series. Manny is currently working on his creator owned comic book which will be debuting this upcoming year. To view more of Manny's work, visit www.MannyMederos.com.
Radio Once More - Radio Once More.com broadcasts Old Time Radio and Great Nostalgia Programming 24 hours a day. Their "live" broadcasts are aired Monday, Wednesday & Friday at 9:00pm (eastern) and Sunday at 6:00pm (eastern). Consecutive broadcasts can be heard Monday through Friday at 9:00am & 12:00pm respectively. Their station is hosted by Neal Ellis and Ken Stockinger. Both Neal and Ken will be on location at the convention and will be providing a "live" remote broadcast to their listeners, featuring "exclusive talk" and coverage of the Baltimore Non-Sports Card Convention. Their listener line is (410) 360-6070. To listen to Radio Once More, visit their web site at http://www.radiooncemore.com.
More to be announced!
Manufacturers/Publishers appearing include:
Non-Sport Update magazine - Non-Sport Update magazine is a bi-monthly magazine (since 1990) for the discriminating collector of non-sport cards. For more information, visit their site at www.NonSportUpdate.com.
Geppi's Entertainment Museum (GEM) is a journey through 250 years of American pop culture, located in historic Camden Station at Camden Yards in Baltimore Maryland, just a few blocks from the city's famed Inner Harbor. The museum exhibits nearly 6,000 pop culture artifacts from the late 1700s to the present day, including comics, toys, dolls, games, trading cards, and memorabilia of every conceivable category. The museum is owned by Stephen A. Geppi, President and CEO of Diamond Comics Distributors. Don't forget to check out their museum after the convention! For more information, visit www.geppismuseum.com
Rittenhouse Archives, Ltd. - Rittenhouse Archives, Ltd. specializes in science fiction and fantasy based collectables, including trading cards, audio cards, limited edition prints, bobble head figures, cereal and more. Rittenhouse currently boasts more than a dozen licenses, including the entirety of Star Trek, James Bond, Marvel, DC Comics, Stargate SG-1, Stargate: Atlantis, Conan, Battlestar Galactica (both classic and current), WNBA, and PBA. Rittenhouse will be handing out free samples and promotional items for this event. Rittenhouse's website address is www.scifihobby.com.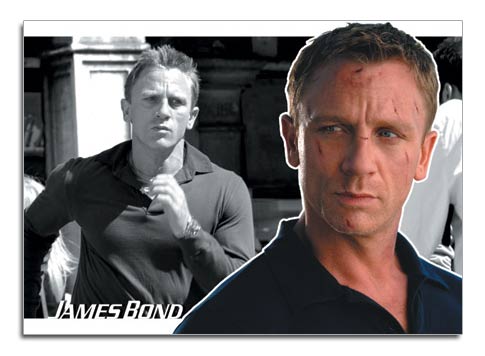 Show promo card CP1 for the upcoming James Bond: Heroes and Villains set, designed exclusively for the Baltimore Non-Sports Card Convention by Rittenhouse Archives.
The Trading Card Museum is a website built by and for trading card collectors, artists, dealers, producers and enthusiasts. The museum will be producing and providing giveaway Promo Cards designed exclusively for this event. Visit the site at www.thetradingcardmuseum.com.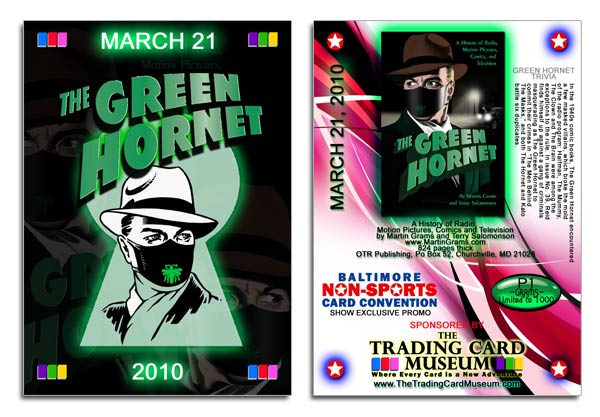 Promo card designed by artist Sir Shadow. Door Exclusive, Limited to 1000.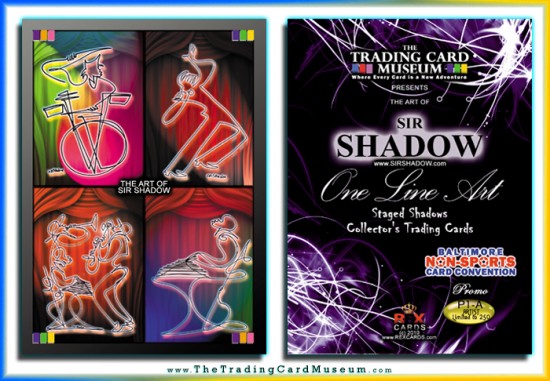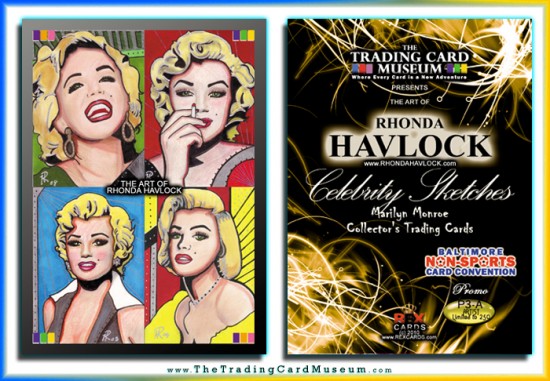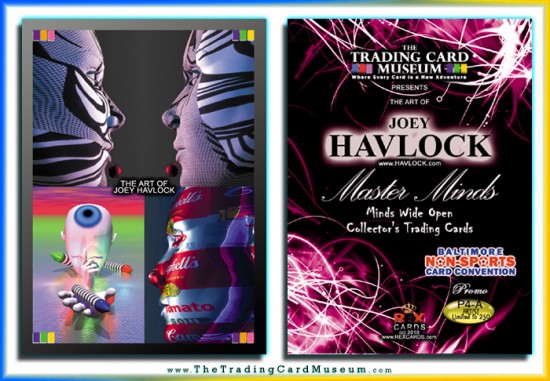 The three cards above are limited to 250 each and will be distributed and available from the artists individually at the Baltimore Non-Sports Card Show on March 21st 2010. Produced by The Trading Card Museum (in association with TradingCardFactory.com and Versicolor Productions).
Autograph Magazine - Autograph Magazine (Formerly Autograph Collector) has been the leading publication in the autograph hobby since 1986. They bring the fun and challenge of collecting autographs and memorabilia every month, from Hollywood to history, music to sports, signed books and more. The magazine will be represented by Mark J. Gross, writer of the ongoing column, Sci-Fi Scene. For more information about Autograph Magazine, visit their website at www.autographmagazine.com
More to be announced!
Dealers
Robert Winter - Robert Winter is a well-renowned dealer in the trading card world that specializes in vintage high grade 1950-1960s.

Alan Miley - Alan Miley is a quality dealer that specializes in a wide array of non-sport cards including tobacco cards, coffee cards, candy and gum cards, and more!
Chick's Collectibles - Chick's Collectibles has been doing the Philly show for over 10 years. Based in Baltimore, Maryland and operated by Harry "Chick" Veditz, Chick's Collectibles specializes in promo cards and flats, singles from sets (50's-00's), food sets, insert cards, unusual sets, and related products.
Rick's Cards - Rick's Cards is conveniently located in Stephenson, VA. Rick carries loads of non-sport cards, from The X-Files to Catwoman, to The Osbournes and Looney Tunes (to name a few). Rick also carries vintage cards and gaming cards. Rick currently promotes several Card and Coin Shows each year.
Mikz Cardz - Mikz Cardz is operated by owner Mike Surratt. Mike will be bringing regular base set singles (something you rarely see at shows anymore) plus great deals on numerous card sets. Besides from being a card dealer, Mike is an extreme card collector as he considers himself a "cardaholic". To view Mik'z "Trading Card Needs" and his "Personal Collection", visit his "Little Home On The Web!", www.MikeSurratt.com/main-new.htm.
Anna Marie and Mike Ruggeri - Anna Marie and Mike Ruggeri own and operate P.K. Comics & Cards, a New Jersey based company that specializes in vintage non-sports from the 1930's to the early 1970's. A great seller and buyer of vintage and new comic books and non-sports cards and other collectibles.
Wayne Zeno - Wayne Zeno oversees Zeno's Books, a full service book store located in Chesapeake, VA that specializes in used books, comics, and non-sport cards. Wayne will be bringing plenty of non-sport cards to the show, in addition to select comic books.
JL Cards - JL Cards is headed by Joe Lange from Philadelphia, Pennsylvania. Joe sells sets and singles from the 1920's to the 1980's plus. Joe has set-up at the Philly Non-Sports Card Show for the last 25 years.
Classic Plastic Toys - Classic Plastic Toys is owned and operated by Todd Hardy, a vintage toy dealer from the Maryland state area. Todd will be selling 60's, 70's and 80's toys, games, action figures, super hero figures, vintage Star Wars toys from the 70's, vintage GI Joe toys from the 70's and 80's, Transformers from the 80's, vintage Lego sets and Lego mini figures, Planet of the Apes toys from the 70's, and some Evel Knievel toys from the 70's. A great compliment to the convention.
Laura Inglis - Laura Inglis sells sets and inserts from the 1980's - present and will also be selling some of her own sketch cards. Some of Laura's artwork can be seen at http://www.wandringrebel.deviantart.com/. You'll also be able to find some of her sketch cards in the upcoming Essence of Fairyland set from http://www.sadlittles.com/
258 West Authentic Signatures - 258 West Authentic Signatures specializes in the production of Limited Edition Autographed Trading Cards. The company was created almost 5 years ago and is overseen by owner Marco Guerrero. Marco's mission is to build 258 West Authentic Signatures as the number one name in authentic autographs. The company's exhibition at the convention is tentatively scheduled. For more information about current and upcoming products, visit www.258west.com.

Blowout Cards - Blowout Cards stocks a large selection of factory sealed boxes and cases of non-sport cards, gaming cards, and any other trading cards. The company is based in Sterling, Virginia and lead by co-owner Thomas Fish. For more information, visit www.BlowoutCards.com.
TIKnTIK - TIKnTIK has been in the card business since 1981. They buy and sell pre 1920 non sport cards and associated tobacco material. The company is based out of Wapwallopen, Pennsylvania, owned and operated by Terry Knouse and family.
Non-Sports Bible - Non-Sports Bible will be selling 1920-1980 non-sport cards and related material; including Non-Sports Bible Reference Guides. The company is owned and operated by Chris Watson of Fort Washington, Pennsylvania.
Dr. Arnold T. Blumberg - Dr. Arnold T. Blumberg is the Curator of Geppi's Entertainment Museum. Dr. Blumberg will be selling his private collection of non-sport cards.
Bill Miller - Bill Miller of Grantville, Pennsylvania will be showcasing his vintage non-sport cards including tobacco cards, postcards, and other related ephemera. Another great addition to the show.
More to be announced!
Admission: $5 for adults, free admission for children under 12.
Want to exhibit? For more information, call 717-542-0567 or email NonSportsCard@yahoo.com
---
PAST CONVENTIONS BY USATHEATRES.COM
---
All dates and details are subject to change.

Copyright 2023 USATheatres.com. All rights reserved.