CONVENTIONS
The American Music & Pop Culture Expo
Congratulations to Lynn Sameth of Hummelstown, Pennsylvania; winner of the Crosley Full-Size iJuke Jukebox!
Special thanks to everyone who helped make this event
a great success!
Bronson Pinchot and Butch Patrick appeared on Fox43's morning show on March 29 to promote the American Music and Pop Culture Expo. Here's a link to the video which made national news, including ABC, CNN, Gawker, Huffington Post, and more!
Presenting the world of music, comics, movies, television, toys and more,
with a showroom packed with 75 exhibitor spaces!
Show Dates:
Friday, March 29, 2013, 5 PM to 9 PM
Saturday, March 30, 2013, 10 AM to 4 PM
Enjoy the grand re-opening of Hershey Park's Springtime In The Park, set to debut March 29-31. With the American Music & Pop Culture Expo and Springtime In The Park during Easter this year, consider a multi-day getaway in Hershey, Pennsylvania!
Location:
Granada Avenue Gymnasium
30 East Granada Avenue
Hershey, PA
Click here for map

Click here for the floor plan for the show!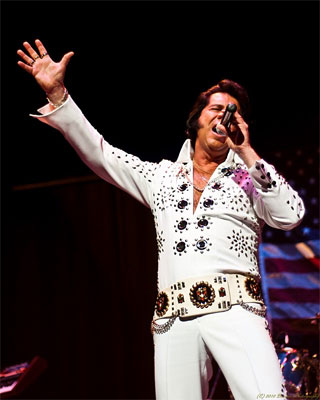 LIVE Performance By Award Winning Elvis Presley Impersonator
Brad Crum, "The Soul and Sound of A Legend"
who modeled for the Aloha Elvis Figure released in 2008 by McFarlane Toys.

Performing LIVE on the A-1 Party RENT-ALL Concert Stage
www.a1partyrentall.com
Brad Crum will be performing 3 sets Saturday between 11AM and 3PM. Seating is limited to one set per person and subject to availability on a first-come, first served basis, space permitting.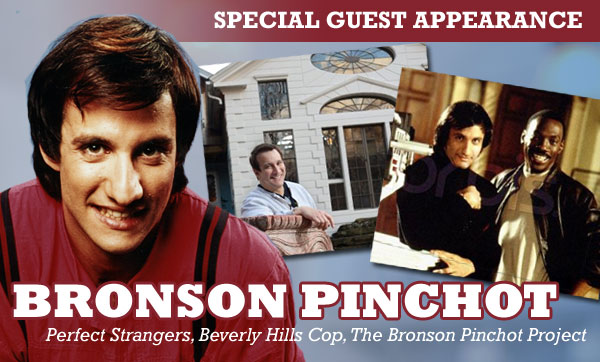 Actor Bronson Pinchot is best known for his role as Balki Bartokomous on the ABC sitcom Perfect Strangers which ran for eight seasons. He has also appeared in a number of films, notably with his breakout performance in the Eddie Murphy film Beverly Hills Cop, as well as Risky Business, True Romance, and The First Wives Club. He currently stars on The Bronson Pinchot Project, a home renovation show on the DIY Network. Each episode of The Bronson Pinchot Project features Bronson and his crew of local contractors renovating another room at one of his properties in Harford, PA. Bronson Pinchot is a hands-on renovator with the skills of a contractor and the eye of a top designer.

Just Announced!


Also appearing with Bronson Pinchot is Mike Papusha! Bronson Pinchot's right-hand-man Mike Papusha (shown left in the above photo with Bronson at right) is featured on the new DIY Network series The Bronson Pinchot Project as part of the team of local craftsmen that restores Pinchot's Harford properties.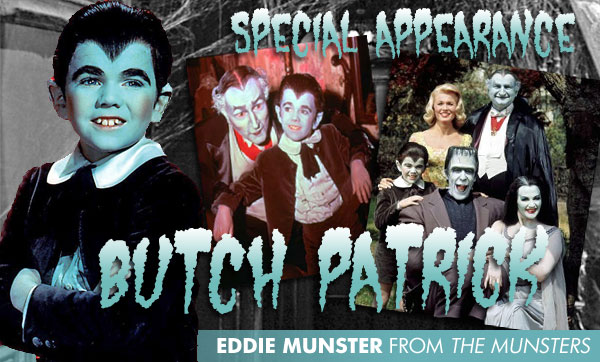 Beginning his professional acting career at the age of eight, Patrick is perhaps best known for his role as Eddie Munster on the television series The Munsters from 1964 to 1966 and in the 1966 feature film Munster, Go Home, as well as for starring as Mark on the Sid & Marty Krofft Saturday morning children's series Lidsville from 1971 to 1973.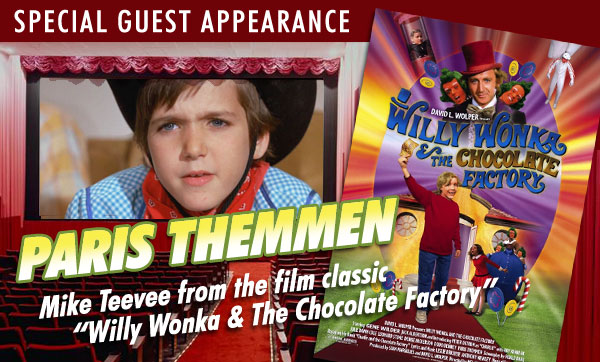 Meet Paris Themmen, best known for his appearance as "Mike Tee Vee" in the classic film Willy Wonka and the Chocolate Factory. He has also appeared in an episode of
Star Trek Voyager titled "Virtuoso," and in two Broadway plays The Rothschilds and Mame. Themmen lent his voice to the animated short film Macross Plus (1994), had background parts in movies such as The Doors and The Big Lebowski.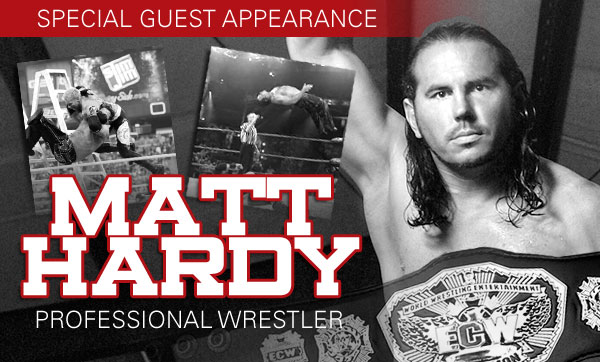 APPEARING SATURDAY 10 AM to 4 PM
Matt Hardy is a professional wrestler best known for his groundbreaking high risk/high flying work in WWF/WWE and TNA. Hardy has won a number of championship belts during his impressive career, including the WWF World Tag Team Championship, the WCW Tag Team Championship, the WWE Tag Team Championship, the WWE Hardcore Championship, the WWE US Championship, and the WWE ECW Heavyweight Championship. He is the current reigning PWS Heavyweight Champion. http://www.matthardybrand.com/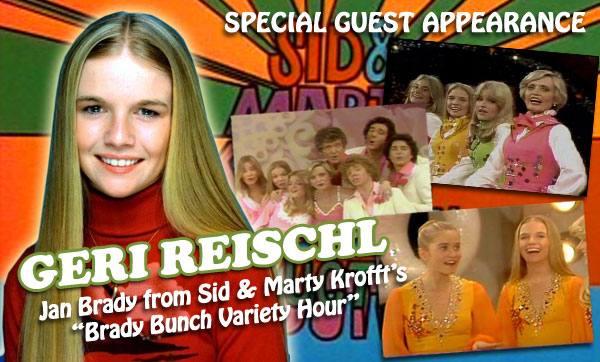 Meet Geri Reischl, best known as Jan Brady from Sid & Marty Krofft's "Brady Bunch Variety Hour." She also appeared in commercials, the cult films "I Dismember Mama" and "The Brotherhood of Satan," and TV shows including "Apple's Way" and "Gunsmoke." She was also cast as Blair on "The Facts of LIfe" and was a finalist for the starring role in "The Exorcist." Visit her official web site at www.gerireischl.com.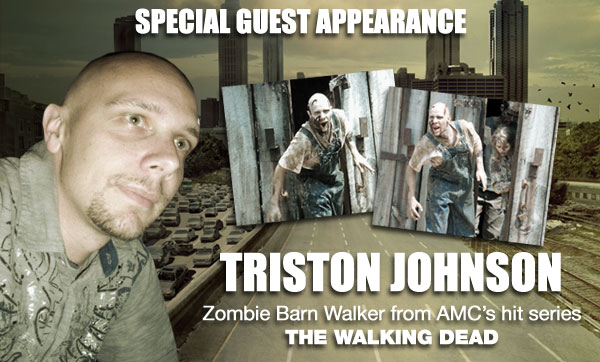 Triston Johnson has appeared as a zombie on several second season extras on AMC's hit show "The Walking Dead." Follow Triston Johnson on Facebook at facebook.com/barnwalker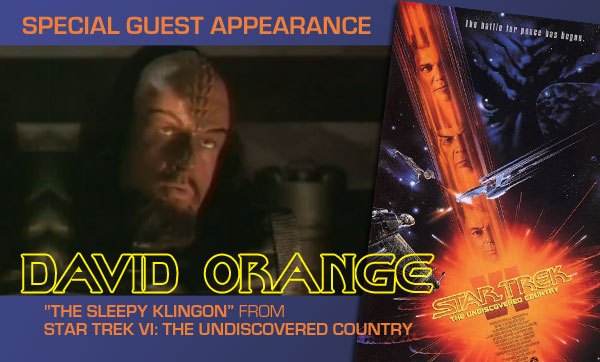 Meet David Orange, the actor who portrayed "Sleepy Klingon" in the motion picture "Star Trek VI: The Undiscovered Country". Orange is a veteran actor with Broadway, film and television credits. He's also a published novelist and magazine writer. www.davidorange.net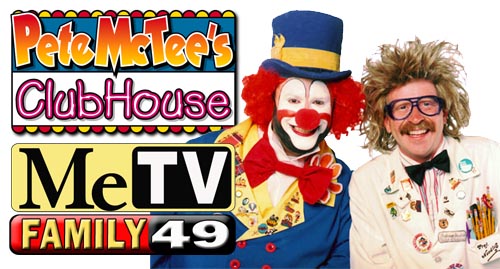 Pete McTee and Professor Noodles from MeTV Family 49's Pete McTee's Clubhouse
Appearing Saturday 1 PM to 4 PM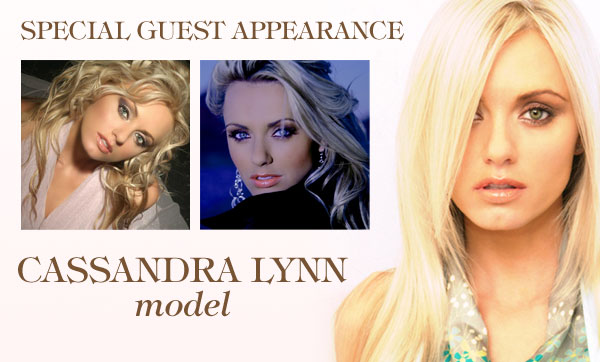 Cassandra Lynn is a model whose credits include: Cover of Sports Bike Magazine, Makes and Models, Guitar World, Hugh Hefner's Playboy, Entertainment Tonight, and Bench Warmer International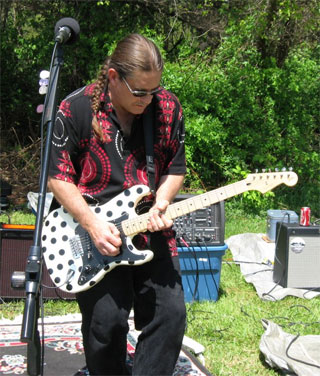 Jason Cunningham - Professional musician and guitar teacher who specializes in teaching beginner and intermediate students in all aspects of the guitar universe, from traditional playing and practicing techniques through ear training, instrument maintenance, performance, band interpersonal dynamics, and vocalization.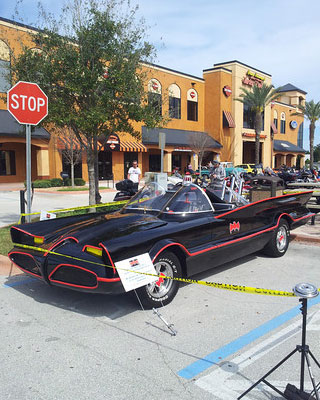 Come See a Real-Life 1966 Batmobile!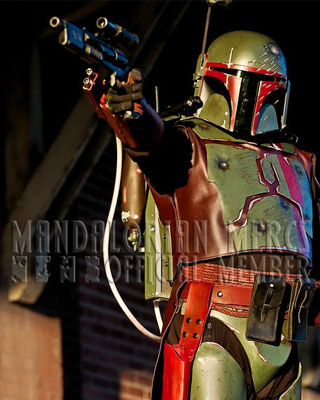 ( Photo by Kevin Smith - ksimageryphotography.com )
SATURDAY ONLY!


See Real-life STAR WARS Characters
provided by MandalorianMercs.com
PLUS
Artist Alley - Laura Inglis, David Quiles, Mytron Studios, Rusty Gilligan
and many, many more to be announced!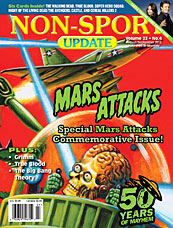 Meet the writers and publishers of Non-Sport Update magazine!
WIZARD OF OZ PINBALL


PinballSTAR Amusements, Your Authorized Jersey Jack Pinball Distributor.
SEE, PLAY, and BUY the NEW Wizard of Oz Pinball Machine!
Play the Wizard of Oz for free or compete in mini-tournaments held throughout the show - Anyone can compete and win - novices to expert players!
Also kids only tournaments! Ipods to all the winners! Free PinballSTAR Amusement Tshirt giveaways.
See the VirtuaPin - the Video Pinball Machine!
See other antique arcade games available for play and purchase!
For pricing, info, and pre-orders, contact:

Joe Newhart
Sales@PinballSTAR.com
www.pinballstar.com
570-357-0042
MOBILE VIDEO GAME THEATER

Featuring flat-screen HDTVs, comfortable seating, a high-quality sound system and the latest video game consoles - and offering a premier party experience for both children and adults in an interactive, multiplayer environment that accommodates up to 16 players.
Appearing Saturday from 10AM - 12Noon
(Please note: Games may vary from the examples shown above.)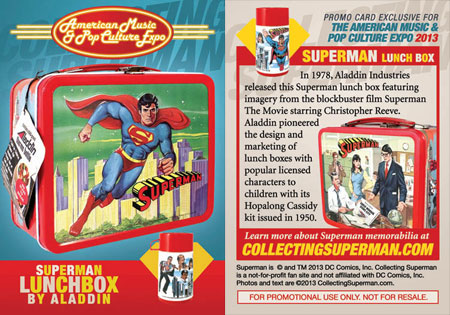 SHOW EXCLUSIVE PROMO CARD
Free to the first 1000 attendees: an American Music & Pop Culture Expo
exclusive promo card for collectingsuperman.com, a web site featuring information and photos about Superman collectibles from the 1940s through the present day. The card features full color images of the 1978 Superman lunch box and thermos from Aladdin.
VENDOR SPOTLIGHT
JL Cards, Bill Miller Collectibles, Lauren Berry (Scentsy Independent Consultant), The Gumball Guy, Heroes Unlimited, Zoloworld,
Kimmy Matthews (Independent Consultant for Thirty-One Gifts),
Sarah Hensley with Mad Scientist's Lab,
Antiques & Collectibles National Association www.acna.us,
Megan Mott (Consultant for Tastefully Simple) www.tastefullysimple.com/web/mgift, Five Star Home Foods,
Draben's Toyland, Figure Toyman, D Line Sports & Memorabilia,
David Brill, Steve Butler DBA Toys of Olde,
Lynette Davenport (Mary Kay products),
Comics and Paperbacks Plus, Extremities Entertainment,
A-1 Party Rent-All, Inc., Solar LED Innovations (www.SolarGoose.com),
Kim Schreiner (Origami Owl Independent Designer) www.LocketsByKim.OrigamiOwl.com, Chick's Collectibles,
Slipped Disc Records, Rudy's Toyz, Dale Reinhart Jukebox Restorations,
Jeff Mels Comics Crafts, JNJ Vinyl Xchange, The Card Pimp,
American Historic Jukebox Society, Mountaintop Art Studio, Yesterday's Toys,
Zeno's Books, Children's Home of York,
All-American Comics & Collectibles, Flavor Palooza (facebook.com/FlavorPAlooza),
Papa's Kettle Korn, Criterium-Yingst Engineers, Inc.,
HBAC Group (Antique Cash Registers) www.hbacgroup.com, Mom & Pops Toys,
Embellished, Rec Room Specialties, First Line Media LLC,
Bill's Baseball Cards & Sports Memorabilia, Erie Construction Mid-West, Inc., Nancy Miller, Indulge Fashion Accessories, Brad & Patrick O'Connor (Baseball Cards & Music Memorabilia), Play it Louder Music, PinballSTAR Amusements, Wheeler Stationaries, Marc's Vintage Vinyl & Collectibles, Bill's Comics,
Sundance Vacations, Dick Clark, Dimension X Comics,
A & E Hobby Exchange & Enygma Toys, Musicmaker Collectibles,
Fig Tree Creative Artistry, Mrs. Natalie (Fortune Teller), Richard Burkett,
Sugar Princess, A2Z Toys, Anthony Landrow, Robin Butler, Jukebox Queen,
Sound Essentials, Bargainzilla, Passanante's Home Food Services,
The Universal Travel Marketing Group, New England Novelty,
Dennis T Brennan, Hank Sauce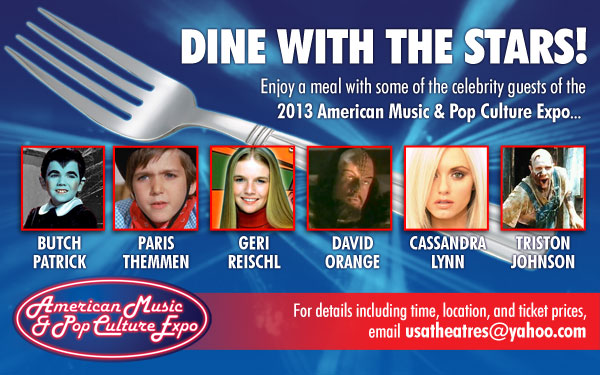 ---
Presenting the world of toys, comics, movies, television, music and more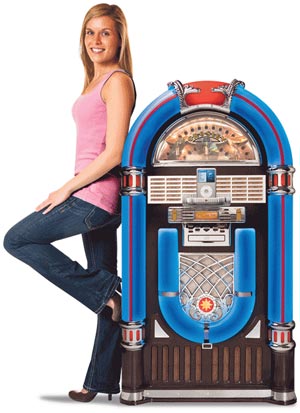 A woman stands next to a Crosley Full-Size iJuke Jukebox CR12-2. The jukebox comes complete with an AM/FM radio, CD player that reads MP3 and WAV files, and an iPod docking station. Attendees of the American Music & Pop Culture Expo will have the opportunity for a chance to win this jukebox (List Price: $1,495.95). Crosley jukebox and photo courtesy of RetroWonders.com, an authorized reseller of Crosley products.HERSHEY, Pa - USA Theatres, which operates a portable drive-in and outdoor movie theatre in Central Pennsylvania, will be presenting the world of toys, comics, movies, television, music and more, with the launch of the American Music & Pop Culture Expo.

According to the company, the expo will feature numerous vendors buying, selling and trading a variety of antique, vintage and popular culture collectibles, such as toys, coin-ops (gumball machines, arcade machines, etc.), banks, games, pins, buttons, lunchboxes, comics, trading cards, posters, books, magazines, autographs, photos, prints, artwork, jewelry, advertising items, rare LP vinyl records, DVDs, albums and singles (33s, 45s, 78s), players and musical instruments.

Previous shows and conventions, organized by USA Theatres, included a non-sports card convention, which featured various exhibitors from the non-sports industry, and an antique toy and coin-op show, which featured quality exhibitors of fine antiques and collectible toys, including coin-operated items such as jukeboxes.

"All of the events that we organize exhibit the retro factor," said Ronald M. Vastola, Outreach Coordinator of USA Theatres. "From the King of Rock and Roll to the King of Pop, from old mechanical toys to battery operated toys, from Star Trek to Star Wars, through Beatlemania and Batmania, Pac-Mania and Hulkamania, the American Music & Pop Culture Expo will appeal to all age groups."
According to Vastola, the event will also feature media guests, artists and publishers, such as Non-Sport Update, a bi-monthly magazine for collectors of non-sport trading cards (cards that focus on movies, television, sci-fi, comics, music, etc.).

Attendees will have the unique opportunity for a chance to win a brand new classic style full-size jukebox (MSRP: $1495.95), provided by RetroWonders.com, an online retailer of Crosley Radio products, according to Vastola.

The American Music & Pop Culture Expo is set to debut on Friday and Saturday, March 29 and 30, 2013, at the Granada Avenue Gymnasium, located at 30 East Granada Avenue in Hershey, Pennsylvania.
---
"From the King of Rock and Roll to the King of Pop,
from Star Trek to Star Wars, through Beatlemania and Batmania, Pac-Mania and Hulkamania, the American Music & Pop Culture Expo will appeal to all age groups."
--RONALD M. VASTOLA, Outreach Coordinator of USA Theatres.
---
"Hershey is a great geographic location to host an event," Vastola said. "It is conveniently located to most major metropolitan areas in the Northeast, and can easily attract pop culture enthusiasts from Washington D.C., Maryland, Delaware, New Jersey, New York, and of course, Pennsylvania."

Although it is early, Vastola anticipates 75 vendor spaces to be utilized. "Vendor space will sell out fast," he said.

Early buyers are welcome Friday evening at 5:00 p.m. and also Saturday morning at 8:00 a.m. for $25 per person each day, while general admission on Saturday, from 10:00 a.m. to 4:00 p.m., is $7 for adults and $5 for seniors, college students and active military (Photo I.D. required). Children 11 and under will be admitted for free, accompanied by a paying adult. Parking is free.

"The show will be promoted and marketed through various media outlets, such as television, radio, Internet websites, newspapers, trade publications, and direct market mailers," Vastola said. "We will also be promoting this event all summer long on the 40 foot tall 'Turkey Hill Screen'."

A variety of food and beverages will be available for purchase at the show, provided by Joemomma Foods, Inc. of Hershey, Pennsylvania.

"It's going to be another brisk and fantastic show," Vastola added.
---
Official Hotel of the American Music & Pop Culture Expo

For hotel accommodations, attendees are encouraged to contact the Hilton Garden Inn Hershey, the official hotel of the American Music & Pop Culture Expo. The hotel is located 3.3 miles, 8 minutes from the expo. Mention the show to receive a special room rate of just $79 per night (promo code: HDI). Visit their website www.hershey.gardeninn.com or call the hotel directly at 717-566-9292.
---
PAST CONVENTIONS BY USATHEATRES.COM
---
All dates and details are subject to change.

Copyright 2023 USATheatres.com. All rights reserved.